High-Tensile Wire.
Stay-Tuff fencing is made from 12 1/2 gauge High Tensile Class 3 galvanized wire. This offers three time the life and nearly four times the strength of most conventional low tensile fence wire.
Low tensile wire will stretch and sag over time. High Tensile wire won't stretch even after many years of service. Stay-Tuff fence will resist stock pressure, snow loads, and the occasional falling tree, giving with the load and springing back to its original shape.
Solid Vertical Stay.

Stay-Tuff fencing is made with a one-piece vertical stay wire. Conventional hinge-joint fencing or field fence uses multiple short wires for stays, allowing the stays to slide, fold down, or even unwind. Stay-Tuff's solid vertical stay provides superior strength, enabling the fence to stand upright on its own. The solid stay provides greater resistance to pressure from stock. With stays available in 3", 6", and 12" spacing, you can select the right fence for your needs.
Click here to go to the B&M Fencing web site!!! We give free estimates on installation!!
Save on materials.
The combination of High-Tensile line wire, a very deep crimp, and solid vertical stays allows this fence to be constructed using 25' post centers with 1320' between braces, saving you time and material. No additional stays are required to support it, and it will never need to be re-tightened. Also every roll of fixed-knot fence comes pre-stripped of vertical stays within 18" of each end of the roll. This pre-stripped roll saves you 20-30 minutes of labor time per roll, and effectively adds 18" to each roll, with none lost to splicing.
Go to www.staytuff.com for more info on this great fencing. WE ARE ALSO SET UP TO TAKE PAYMENT BY CREDIT CARD AND PAYPAL.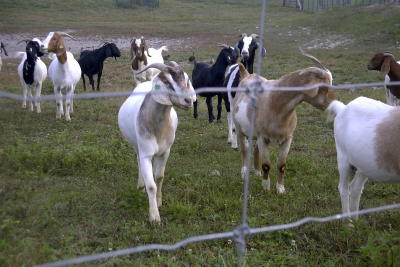 Some of our goats in the Stay-Tuff fencing.
We use the 1348-12-660. This fencing goes up nicely no matter what kind of terrain your working with. We've done flat areas and hills and ravines. You can come see our fencing by appointment to get an idea of what it looks like and get ideas on how we worked it up and down the hills and hollers.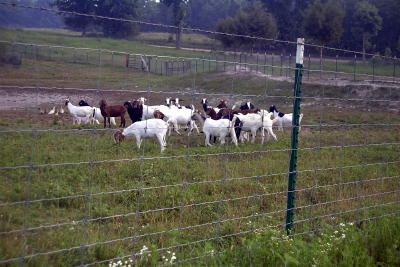 The Obvious Choice.
When all of the advantages are considered, the cost of Stay-Tuff fencing will rival any barbed wire fence, will be less than any hinge-joint fence, and will outlast them both. It also has a 10 year warranty. You owe it to yourself and your bottom line to learn more about this great fencing. You owe it to your kids too, because they won't have to worry about replacing this fence.