On this page you will meet the bucks we are currently using.

Here are the bucks we are using at this time. Different looks, different lines, all nice looking and all for a purpose.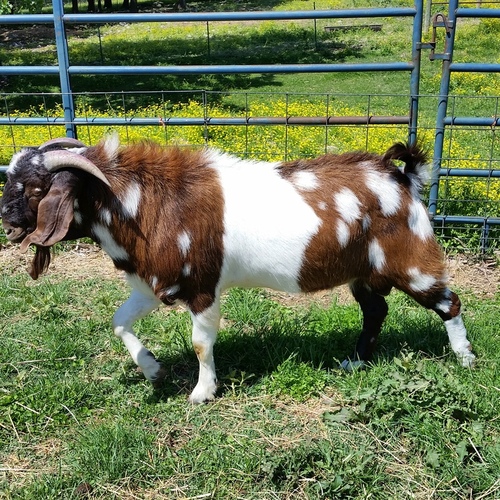 Ennobled goats in Mocha's lineage:"Ash Creek Super Star", "Super Stax X21", JBI S1, "Kickin Brass", "Flirt Alert", "Full Throttle", "Show Girl", and "Rascal"
Not only are we constantly trying to improve our own herd's conformation, we want our herd to have great dispositions too. We want our goats to be easy to handle. We strive on raising quality animals that can take care of themselves without buckets and buckets of feed dumped into their pen 365 days a year and still compete in the show ring.
Milky Way Mocha - FULLBLOOD DAPPLE BOER
Milky Way Mocha came from Holaday Farm in Rogersville, Missouri. He is an awesome dappled paint that consistantly throws conformation and color. He is easy to get along with and we are very pleased with his offspring.