Hawk Shadow Farm is a 120 acre retired horse facility located 45 miles East of Springfield, MO and 180 miles West of Sikeston, MO in the heart of the Ozarks. Our retired horse boarding farm is conveniently located 4 miles off Highway 60, offering easy access in the Southern Midwest, including Iowa, Kansas, Oklahoma, Arkansas, Illinois, Indiana, Tennessee, and Kentucky. The farm is owned by Brian and Melissa Jacobs, who have over 25 years of experience with horses, and first hand experience with retired equines.

BOARD FEE RANGES FROM $200 TO $350 MONTHLY DEPENDING ON WHAT YOUR HORSE NEEDS. ALL BOARD PAYMENTS CAN BE MADE BY CASH, CHECK, CREDIT CARD OR PAYPAL.
Your monthly board fee of $350 includes:
Pictures taken upon arrival and emailed to you
Regular updates, including pictures
24-hour turnout with compatible groups
Daily affection & treats
Free-choice grass and/or hay
Purina Senior Formula, up to 6lbs. (or other Senior formula as requested)
Blanketing if requested (blanket provided by owner)
Fly masks in summer (provided by Hawk Shadow Farm)
Fly Spray as needed in summer (provided by Hawk Shadow Farm)
Maintenance medications and supplements as required (provided by owner)
De-worming 6 times per year (wormer costs covered in monthly board fee).
Hooves trimmed 6 times per year (Farrier costs covered in monthly board fee).

Annual vaccinations (costs covered in monthly board fee-Note: Horses must be boarded 6 months to receive vaccinations as part of the board fee.)
Annual teeth float, if required (costs included in monthly board fee)
Sheath cleaning as needed
Salt/mineral block
Grooming 2 times per month
No holding fee for regular vet and farrier visits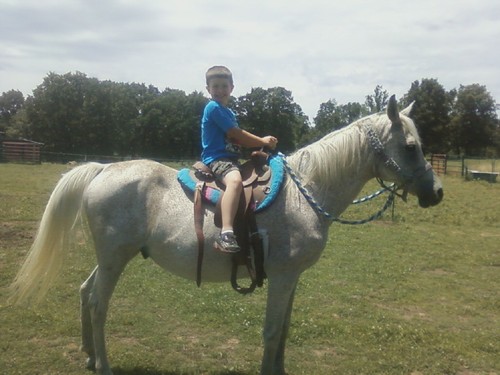 Seven year old Cody, our son riding 25 year old Echo. We have had Echo since he was three years old.
Our farrier is Lee Brandonburg. He is a great guy with lots of patience and care when working with the horses. He comes every eight weeks to trim hooves. We do not recommend back shoes on retired horses for safety reasons for the other horses.
We live here on the farm and your horses will have lots of attention.
Here at Hawk Shadow Farm, is a very comfortable atmosphere for your beloved loyal equine companion, that has round the clock experienced care. Perfect for retirees with lots of pasture companions! We understand you're equine companions have worked hard for you all their lives, which is why we strive to provide a quiet retirement home for them. They can live their lives out in the peaceful Ozarks with our small herd of Miniature Hereford cattle and Boer goats and our two senior horses, Echo and Arrow.
Veterinary Services provided by Whetstone Veterinary Service.

Whetstone Veterinary Service is a state of the art vet clinic located 17 miles from the farm. There are four veterinarians on site and our farm has a great working relationship with them. They are conveniently located along Highway 60 in Mountain Grove, Mo.

Hawk Shadow Farm is committed to retired horses, we do not accept any horses except retired horses. Boarding retired horses is not just another way for us to board horses, we specialize in retired horses because we believe in the concept of making a lifetime commitment to your horse and providing owners with a facility designed for retired horses, not a facility designed for boarding riding horses with the option of boarding a retired horse.